2023 Alfa Romeo Giulia Quadrifoglio Model Review with Prices, Photos, & Specs

Giulia Quadrifoglio
Key Features
Starting at $79,430 MSRP*
2.9L All-Aluminum Bi-Turbo 24-Valve Direct-Injection 505 horsepower V6 engine
Alfa Romeo DNA Pro Drive Mode Selector with four individual settings
Alfa Link™ rear axle design with vertical rod
Available lightweight Sparco® carbon fiber seats upholstered in Alcantara® and leather with contrast stitching
Ultra-high performance Brembo Carbon Ceramic Brake System
Quad Exhaust System – Four Rear Chrome Exhaust Tailpipes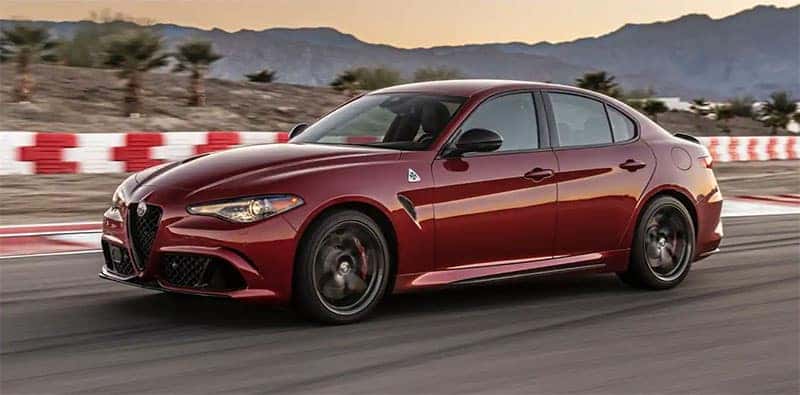 About the Alfa Romeo Giulia Quadrifoglio
Perfectly suited for those who defy convention, the Alfa Romeo Giulia Quadrifoglio embodies all the quintessential aspects of a thrilling sports sedan. Beneath the hood lies an exhilarating 2.9L All-Aluminum Bi-Turbo 24-Valve which produces an astounding 505 horsepower. Capturing the race-winning spirit of Alfa Romeo, the Giulia Quadrifoglio offers a dynamic suspension setup that balances precision handling with on-road comfort at all speeds. Inside the cabin, drivers will enjoy iconic Italian craftsmanship and bespoke materials. Cutting-edge tech features such as a massive 8.8-inch HD touchscreen display helps showcase the advanced infotainment capabilities of the Giulia Quadrifoglio. From the front straightaway at the race track to a winding canyon road, the Alfa Romeo Giulia Quadrifoglio is never out of its element.
What the Critics Say
Implanted with a rhapsodic twin-turbo 2.9-liter V-6 and a well-calibrated eight-speed automatic transmission, the rear-drive-only Giulia Quadrifoglio is a riot to pilot. The Italian-built, Ferrari-derived engine produces 505 horsepower and 443 lb-ft of torque and a spine-tingling timbre that shames most rivals." — Car and Driver
Yes, it's a mouthful (and translates to "4-leaf clover"), but the Quadrifoglio is a legitimate high-performance sedan. If an engine derived from Alfa's cousin Ferrari isn't proof, look at the numbers: 505 horsepower that enables 0-60-mph blasts of just 3.8 seconds and a top speed of 191 mph." — Kelley Blue Book
Alfa Romeo Giulia Quadrifoglio Features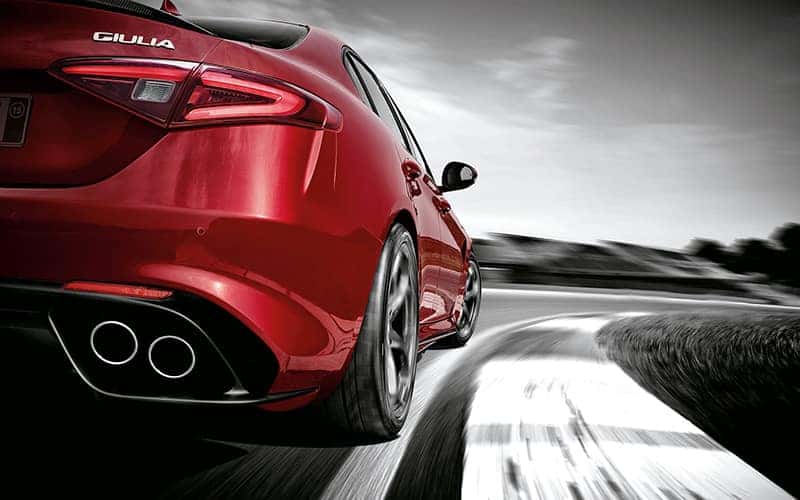 Pulse-Pounding Performance
The Alfa Romeo Giulia Quadrifoglio stirs the emotions with its rich history, captivating mix of state-of-the-art technology, and race-inspired performance. The Giulia Quadrifoglio incorporates a front-mounted, all-aluminum Twin-Turbo V6 engine and rear-wheel drive system to create a near perfect 50/50 weight distribution with optimal balance. Equipped with an active aero front splitter, up to 220 pounds of additional downforce helps showcase the best power-to-weight ratio in its class. A 0-60 time of just 3.8 seconds represents the dynamic performance for capabilities of the Giulia Quadrifoglio. In fact, the Giulia Quadrifoglio was the fastest four-door production vehicle to take on the challenging Nürburgring track, achieving a lap time of 7:32.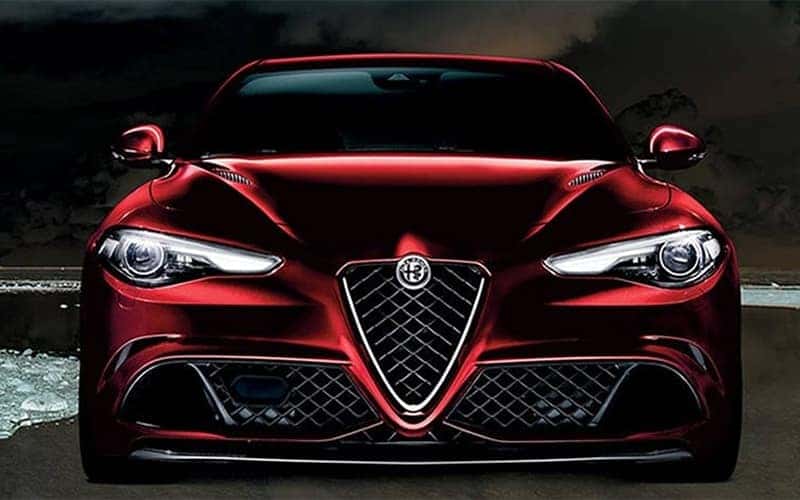 Iconic Italian Design
Quintessentially Italian and unmistakably Alfa Romeo, Giulia Quadrifoglio incorporates several distinctive elements of design. Announcing its dominance with a unique Quadrifoglio grille, Giulia Quadrifoglio uses a segment-exclusive carbon-fiber active aero front splitter to reduce weight and achieve maximum aerodynamic downforce. High-strength steel forms the seductive body, while carbon fiber is used to construct the hood, roof, and driveshaft to create an ideal weight balance. The symbol of the most legendary winning race cars in the history of Alfa Romeo, the rebirth of the Quadrifoglio continues the legacy.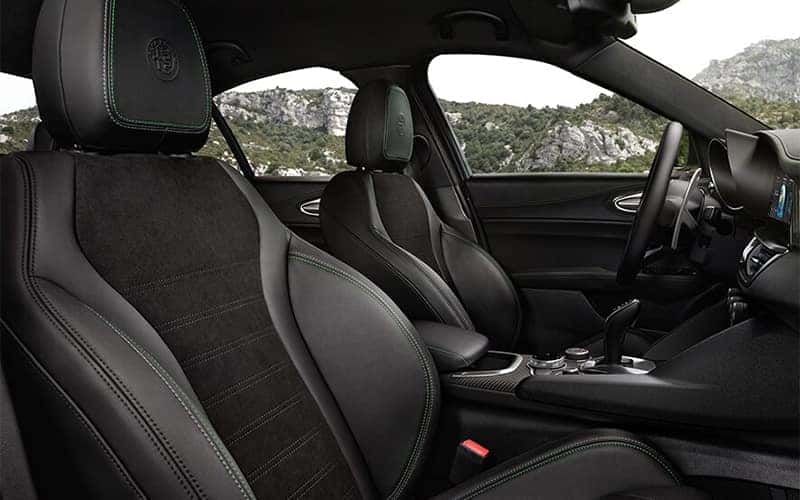 Precision Crafted Interior
Step inside the Giulia Quadrifoglio to experience the distinctive balance between simplistic elegance and driver-focused performance. Ultra-premium leather and Alcantara®, authentic carbon fiber, along with aluminum and accent stitching give the interior of the Quadrifoglio highlight the Italian craftsmanship found in every Alfa Romeo. Grab hold of the reduced-diameter performance steering wheel, which is leather-bound and features the Alfa Red start button. An available 900-watt Harman Kardon® surround sound system with 14 speakers lets your music be heard in remarkable clarity.

Giulia Quadrifoglio
Starting at $79,430 MSRP*
All-aluminum 2.9L Twin-Turbo V6 engine with 505 horsepower and 443 lb-ft Torque
Alfa DNA Pro Drive mode selector with exclusive race mode
Available Sparco Racing seats and unique QV race inspired carbon fiber steering wheel
Genuine carbon fiber material in the hood, roof, rocker panels, rear spoiler, driveshaft, and active aero front splitter
14-speaker Harman Kardon premium audio sound system with subwoofer