Alfa Romeo Giulia Quick Order Package

Ordering a brand new car can be quite stressful, especially when it comes to specifying exactly what optional equipment you want built into your vehicle. On a luxury vehicle like the Alfa Romeo Giulia, the wide selection of options makes it possible to custom-tailor your new car to your specific taste and needs. However, the wide range of available equipment can be overwhelming. You don't want buyer's remorse when you realize later that you forgot to order your Giulia with an option that you really wanted. Thankfully, there's the Quick Order Package option that makes ordering your new car easier than ever. Keep reading to learn about everything that's included in this convenient package.

What's Included?
The Quick Order Package makes it easy to get all of the most desirable options for your new Alfa Romeo Giulia with one simple selection. This one-size-fits-all solution includes several of the most popular option packages. These options consist of styling updates, performance upgrades, luxury options, and technology features. These features are packaged together because of their popularity with buyers, as many have chosen these options separately. They represent the most in-demand options for the Alfa Romeo Giulia. The Quick Order Package is made up of three separate option packages, which we'll go over next.
Nero Edizione
The Nero Edizione package is part of the Quick Order Package and includes blacked-out exterior trim to provide a sporty, modern look. The mirror caps, badging, and grille are finished in Miron Black. Additionally, the trim around the windows is finished in gloss black. As a finishing touch, the wheel center caps have a subdued, monochromatic finish as well.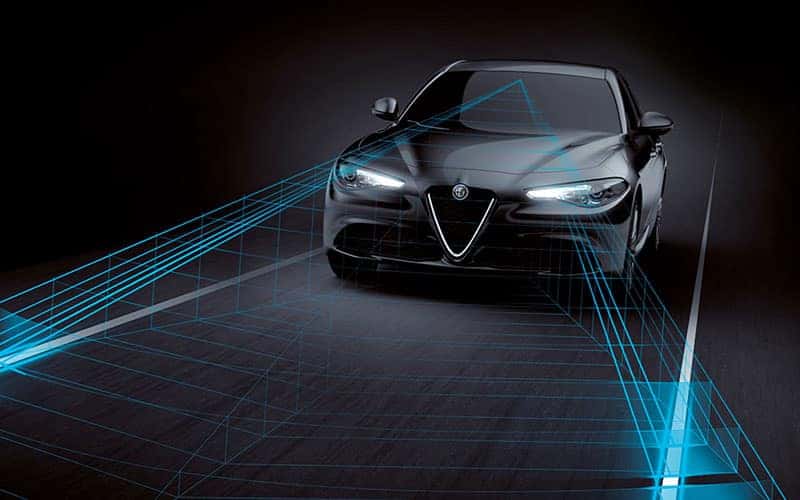 Active Assist 2 Package
The Active Assist 2 package includes some popular technology and driver assistance features, as well as some upgraded trim. Tech features include automatic dimming exterior mirrors, automatic high beams, lane-keep assist, and adaptive cruise control with intelligent Speed Assist (ISA) and traffic jam assist. Also included is Driver Attention Alert, which monitors your alertness, as well as active blind spot assist, traffic sign recognition, and SiriusXM Guardian™ connected service with an included trial period.
You'll also get a sport steering wheel wrapped in leather, as well as a perforated leather shift knob. An infrared windshield keeps your interior cool, and as a finishing touch, 19×8-inch Miron Black Y-spoke aluminum wheels are included, wrapped with 225/40R19 all-season performance tires.
Colored Brake Calipers
A good sports car doesn't just accelerate quickly – it can slow down quickly as well. When the need arises, you'll want good brakes. The Alfa Romeo Giulia has been praised for its braking performance, and with those Miron Black 19-inch wheels, you'll have a good view of the brake calipers and rotors. This option paints the calipers and adds an Alfa Romeo script logo for a high-performance look, as well as a bit of visual contrast. It's the proverbial cherry on top of the excellent Quick Order Package.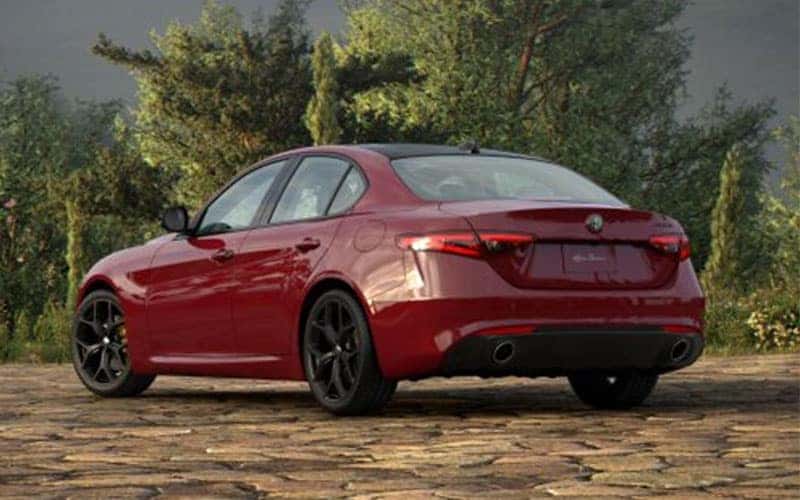 Why You Should Pick the Quick Order Package
These options transform the already sporty luxurious Alfa Romeo giulia into something even more special. More tech, more style, and more luxury – all with one simple option package. Keep in mind that you can add additional options and packages to your custom build if you so choose, so long as they don't interfere with options selected in this package. In this way, you can completely customize your new Alfa Romeo Giulia.